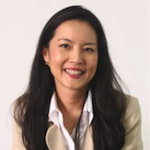 Ms Ngamtrakulpanit is a well-known Thai engineer who has worked predominantly in the male dominated construction industry for more than 2 decades.
In 1993, she graduated with Honors with a Degree in Civil Engineering from the School of Engineering, Tufts University, USA.
In 1996, she completed Master Degree in Construction Management from McCormick School of Engineering, Northwestern University, USA.
In 1999, she was granted a 3 months scholarship by the Swedish International Development Agency (SIDA) to receive training on the subject of International Construction Management at Lund University, Sweden.
And, in 2007 she went back to study on a part time basis and received a Master Degree in Public & Private Management at the National Institute of Development Administration (NIDA), Bangkok, Thailand.
Ms Ngamtrakulpanit is currently the "Assistant Managing Director" of Waltzen Enterprise Co.,Ltd., a Thai construction company where she humbly started at the position of civil engineer.
During the course of her career, she managed to secure many specialized projects including the first super-maximum security ward, and one of four prototype of maximum security prisons ever constructed in Thailand. Waltzen Enterprise continues to be recognized as specialist in the construction of buildings & complexes.
Ms. Ngamtrakulpanit's passion to improve and raise the standards of the construction industry in areas such as sustainable and green construction, government projects pricing, safety issues, construction laws and regulations, issues of SMEs and etc. led her to run for election in the Thai Contractors Association under H.M. the King's Patronage (TCA) and in 2003 she became the youngest elected member of the Executive Board of Director of TCA. She continues to devote her time tirelessly at the Thai Contractors Association and is now the Vice President of the Association. Ms Ngamtrakulpanit is also active in promoting Women in Engineering and that prompt her to sits on the Board of the Thai Woman Engineering Association (TWEA).
She plays a major role in facilitating and negotiating with government agencies to provide urgent measures to help small and medium size contractors in time of economic crisis and natural disasters. Her contribution is well recognized in Thailand and ASEAN. In 2013, she received the recognition as ASEAN Outstanding Engineering Achievement - Contribution Award from 31st Conference of ASEAN Federation of Engineering Organization (CAFEO). And during the year 2016-2017, she was also served as Secretary-General of ASEAN Constructors Federation (ACF).