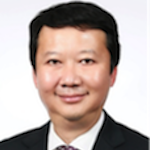 Kenneth Loo is the Executive Director and Chief Operating Officer of Straits Construction. Kenneth began his career with the company as a site engineer in 1991 and quickly rose to become Senior Project Manager in 1993. In 2004, he became the firm's General Manager and was named Executive Director and Chief Operating Officer in 2008 and 2014 respectively. As Chief Operating Officer, Kenneth is responsible for the growth and development of the company's business operations, contract administration, cost management and procurement. He is also a director of several subsidiaries under the Straits Construction Group. With over 20 years of service in the company, Kenneth has played an instrumental role in the company's success.
Kenneth is deeply committed to the building and construction industry and devotes his time to supporting several organisations. He is currently the President of The Singapore Contractors Association Ltd (SCAL), Chairman of the SCAL-Housing & Development Board Focus Group (HDB), and is the SCAL Representative for both the Construction Industry Joint Committee (CIJC), and the Inter-Agency Dengue Task Force for the National Environment Agency (NEA). Kenneth is also the Secretary-General of the Asean Constructors Federation (ACF) and is the Industry Ambassador for Construction Productivity for the Building & Construction Authority of Singapore (BCA). In addition, he also serves as a member of BCA's Construction Productivity Centre Advisory Panel, Building & Construction Industry Rebranding Committee and Precast Advisory Committee.
Kenneth has also played an active role beyond the building and construction industry, having served as Chairman to Migrant Workers' Assistance Fund (MWAF), Co-Chairman to the Migrant Workers' Forum and Economic Strategies Committee, Sub-Committee 6, Working Group 3 on Sustainable and Optimised Foreign Workforce, all under the Ministry of Manpower (MOM). He was also a committee member of the Employability Skills and Training Council for Singapore Workforce Development Agency (WDA), Partner Connection Fund (PCF) Panel and Policy Study Workgroup on Manpower Issues (REACH Panel), both under the Ministry of Social and Family Development (MSF).
Kenneth graduated with a Bachelor of Engineering (Civil) from the University of New South Wales in 1990 and obtained his MBA (Technology Management) from Deakin University Australia/APESMA.