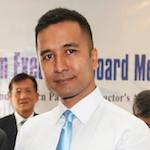 Nicholas Pandey is the Executive Director of Kalika Construction Group, which is the leading construction company in Nepal having experiences abroad including Bhutan, India and the United States. It is an independent multi-disciplinary construction company in the shape of limited liability with the Department of Industry and Ministry of Works and Transport. It has been established with the aim of providing construction works and services in the field of roads, highways, bridges, drainage, irrigation, water supply, river training, hydropower, electrical transmission and distribution lines, tunnels, building and industrial complexes. He also is the Managing Director of Kalika Energy Limited, which develops Hydro Power Projects and is listed in the Nepal Stock Exchange (NEPSE).

He is currently the 2nd Vice President of IFAWPCA and also the Vice President of the Federation of Contractors' Associations of Nepal (FCAN) and Past President of the Youth Community for Nepalese Contractors. He has over 13 years of experience in Construction Management and holds a Materal Degree in Business Administration from Copenhagen Business School.
Nicholas loves travelling, eating Chinese food, playing golf and watching football. He is happily married and has a 4 year-old daughter.