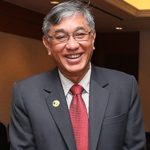 Levy V. Espiritu is one of the founders and the current Chairman and CEO of DATEM Incorporated. He served as President of the Philippine Constructors Association (PCA) in 2010 to 2011, and is the incumbent Executive Director of the International Federation of Asian and Western Pacific Contractors' Associations (IFAWPCA).
His company, DATEM Inc., a quadruple A construction company, was founded in 1984 by a group of professionals, highly trained in construction. The group envisioned a construction company that could give its clients total value-engineered service in terms of quality, time and cost through productive and efficient construction methodologies. Levy and his team pioneered one of the major breakthroughs in the Philippine construction industry when they introduced the precast system in the 90s.
Three decades later, the founders are now leading an organization of trailblazers with over 11,000 personnel, having evolved to become a diversified construction firm building Metro Manila's remarkable structures and architectural marvels today.
On the strength of over 31 years of construction experience and a reliable track record, The Company has recently diversified its businesses well beyond construction. In 2013, the company has expanded into affordable housing and bulk water and wastewater treatment.
Levy is unwavering in his belief that the employees are the greatest assets of DATEM. He lives by the mantra of "Passion for our work, compassion for our People." From his experience as a young engineer, he has seen firsthand the difficulties that the workers face, and he desires to help others overcome these obstacles by way of training, values formation, and by instilling a culture of "malasakit" (compassion). "Malasakit" has always been his favorite among the company's core values that include Excellence, Integrity, Innovation, and he enjoins all DATEM employees, partners and stakeholders, to instill this in their day-to-day operations.