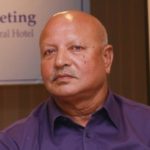 Mr. Abdulla is the incumbent president of the Maldives Association of Construction Industry (MACI), the standard-bearer of the second largest industry in the Maldives, and the Founder Chairman and Managing Director of Amin Construction Private Limited, Maldives, one of the largest contractors in the country.
Amin Construction was incorporated in 1984 and employs more than 1500 employees. The company has received the ISO 9001 and OSHAS 18001 recognitions in 2017. Mr. Abdulla's vision for Amin Construction is for the company to be a first-class contractor producing quality and eco-sustainable buildings that will uplift the construction industry of the Maldives. In pursuit of his mission to provide innovative builder services that meet clients' requirements, Mr. Abdulla has received various socio-governmental recognitions and multiple awards. The most notable two recognitions received by Mr. Abdulla are the National Presidential Awards for Outstanding Service in the Construction Industry in 2003 and 2012. He is well-regarded for his honesty, passion and dedication to conquer unique and revolutionary construction projects.
Under Mr. Abdulla's visionary leadership, Amin Construction has successfully constructed many iconic buildings such as the Maldives Monitory Authority Central Bank Building, Velaanaage Government Office Complex building in the Capital City Male', State Electric Head office, State Trading Organization, the Multi-Purpose Convention Center at the southern Addu Atoll, Fuvamulah airport development and various harbor and revetment projects. Among the notable prestigious projects in the pipeline envisioned by Mr. Abdulla are: the Amin Residence, the first 20-story apartment complex in the Maldives, the proposed reclamation of Amingiri and Dhidhoofinolhu Island in a lagoon 20 minutes away from Male', and the proposed mixed use 25-story Amin Tower in Male'. Today, Amin Construction is engaged in 21 construction projects in 13 islands in the Maldives.