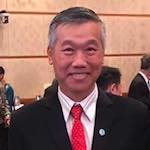 Ir. Chuan Yeong Ming is a Civil Engineer by profession and involves in the Construction Industry for the last 30 years. He graduated from the University of Houston Texas, USA with Bachelor of Science in Civil Engineering in 1983. He is also holding a Master Degree in Business Administration from the University of Strathclyde, Glasgow, UK.
Ir. Chuan is a registered Professional Engineer with the Board of Engineers, Malaysia (BEM) and also a registered Corporate Member of the Institution of Engineers, Malaysia (MIEM).
During the past 30 years' involvement in the construction industry, he has vast experience in various types of construction projects from highway, infrastructure to building works.
Ir Chuan has been actively involved in Master Builders Association Malaysia (MBAM), a national trade Association who is the Prime Mover and the Recognized Voice of the Construction Industry since 2008 and currently he is serving as the Vice President of the Association.